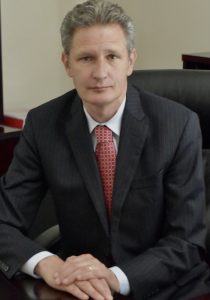 Jason J. Platt, Esq. is a managing partner and one of the primary litigation attorneys in the firm. He concentrates on neglect and abuse cases arising in nursing home, hospital, assisted living, and home care settings, and select negligence and injury matters. Jason has spent 100% his legal career representing everyday people who have been injured at the hands of others.
Prior to forming his current partnership at Doolan Platt & Setareh, LLP, Jason was the managing partner of The Law Office of Hyman & Platt, P.C. Prior to forming his own law firms, Jason worked in New York City at the Law Firm of Schwartzapfel Partners. Over his career, he successfully litigated thousands of negligence cases in the areas of nursing home and hospital neglect, medical malpractice, construction accidents, automobile accidents, and municipal and premises liability.
Jason has particular knowledge and experience representing the rights of those individuals who have been injured in nursing homes, hospitals, assisted living facilities, adult homes, and in their own homes by doctors, nurses and/or aids. With the formation of Doolan Platt & Setareh, LLP in April of 2012, the firm now handles nursing home matters throughout New York State.
Jason has written and lectured to other attorneys on the topic of nursing home liability and litigation in New York State. He has authored the only comprehensive nursing home liability and litigation chapter for a New York State Bar Association treatise concerning personal injury practice in New York.
Jason graduated cum laude from the State University of New York at Geneseo in 1991 with a B.A. in Economics and a Minor in Spanish. After that, he attended Brooklyn Law School, where he was a member of the Moot Court Honor Society and Dean's List and graduated in the top 20% of his class in 1995 with his Juris Doctor. Jason is admitted to practice in the State of New York and to the United States District Courts for the Eastern and Southern Districts of New York. He is an active member of the American Association for Justice (AAJ), the American Association for Justice's Nursing Home Litigation Group, the New York State Trial Lawyers Association (NYSTLA), and the New York State Bar Association (NYSBA), National Citizen's Coalition for Nursing Home Reform (NCCNHR), the Long Term Care Community Coalition (LTCCC), Friends and Relatives of Institutional Aged (FRIA), and the American Medical Directors Association (AMDA).
Jason grew up in Dutchess County and lives in Westchester County with his wife and two children.
As Jason has said, "there is simply a difference between right and wrong and when wrongdoing causes injury, an injustice has occurred. Our firm seeks to protect that principle and the rights of the injured by doing everything under the law to recover fair and just compensation for our clients".
Contact Jason by phone at (914) 458-3076 or use the online Contact Form.